New York jail stay costs same as Ivy League tuition
Mayor Michael Bloomberg attributed the transformative results to his 2007 project, PlaNYC , an initiative aimed at creating sustainable green reforms around the city from better air quality to more affordable housing. "Our PlaNYC agenda set an ambitious goal of having the cleanest air among the largest U.S. cities," BLoomberg said at a Climate Week event in the Lighthouse at Chelsea Piers. "Today's results show that we have already made major progress towards that goal, which is saving lives and improving the health of New Yorkers." In the city's Community Air Survey , officials found that levels of sulfur dioxide in the air have dropped by 69 percent since 2008 and the level of soot pollution in the air has dropped by 23 percent thanks, in large part, to PlaNYC's Clean Heat program, which was aimed at reducing pollution heavy heating oils. Clean Heat was successful thanks to three key reforms: decreased amounts of toxic heating oils, lowered sulfur content in heating oils and expanded natural gas supplies and local gas distribution. Over 2,700 polluting buildings have phased out toxic heating oils as of 2011 and there are currently 2,500 buildings working on conversions, even though the estimated 10,000 buildings in the city that burn toxic heating oils have until 2030 to make their reforms. The cleaner air, Bloomberg said, is estimated to prevent as much as 800 deaths and 2,000 hospital visits due to lung and cardiovascular diseases annually, compared to 2008 records. Manhattan, northern Queens and the South Bronx achieved the greatest improvement in air quality through natural gas conversions. "The substantial reductions in air pollution we're seeing translate into healthier New Yorkers who are breathing cleaner air," said Michael Seilback, Vice President for Public Policy and Communications at the American Lung Association of the Northeast. "As more buildings convert to cleaner burning fuels, we will see even greater health benefits." To capitalize off of this momentum, the Department of Environment Protection also sent a proposed update to New York City's Air Code to the City Council. If enacted, this update will be the first major revision to the code in 38 years. The new code will update emission standards and focus on the most notorious sources of pollution like commercial cooking establishments. Other green reforms like the addition of hybrid and electrical vehicles to the municipal fleet, reduced school bus emissions and zoning changes to encourage more transit-friendly development have all contributed to the current clean air levels, according to the report.
New York Jets vs. Tennessee Titans: Live Grades and Analysis for New York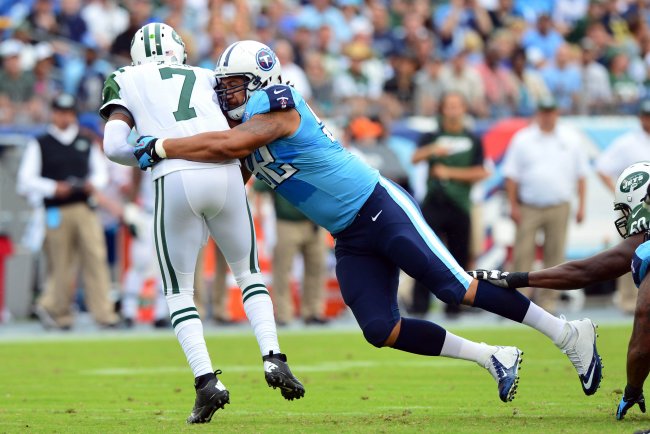 By Nicole Lyn Pesce AND Thomas Tracy / NEW YORK DAILY NEWS Sunday, September 29, 2013, 2:46 AM Comment CamelBaks, hydration backpacks like the one a runner is wearing here, won't be allowed at this year's New York City Marathon. The security measures are a setback for runners that have been training for the Nov. 3 event with the backpacks. Related Stories New York Post sued for labeling two young men as Boston Marathon bombers This year's New York City Marathon is going to be a drier run. Security prompted by the lethal Boston Marathon bombings led race officials to ban CamelBaks hydration backpacks filled with water or containers bigger than 1 liter. Some of the 48,000 runners expected after Hurricane Sandy washed out last years race were hardly in step with the crackdown. RELATED: HALF-MARATHONER ACCIDENTALLY WINS WHOLE MARATHON IN ONTARIO, CANADA Ive been training with my CamelBak all this time! runner Tami Mask wrote on Facebook in response to a rules notice posted Friday on the New York Road Runners Club page. Im screwed! Other banned items for the Nov. 3 event include strollers, vests with pockets and costumes covering the face or any nonformfitting, bulky outfits extending beyond the perimeter of the body. The changes were instituted immediately after the April terrorist attack that killed three people and wounded more than 260 near the Boston finish line. RELATED: CELEBS JOIN PAMELA ANDERSON IN RUNNING NYC MARATHON Strollers and costumes 'covering the face,' like the one seen here, are also banned from the New York City Marathon. Runner Lisa McGarry, prepping for her 11th New York City Marathon, called hydration packs lifesavers for those who need water but dont want to lug bottles in their hands.
Rich Schultz/Getty Images The New York Jets were embarrassed by the Tennessee Titans on Sunday, losing 38-13 and being dominated in every aspect of the game. The loss drops New York to 2-2 on the season. Check below for grades and analysis for each ofthe Jets'positional units in the loss. Final New York Jets Game Grades Positional Unit Final Analysis for the New York Jets Pass Offense: Four games into his career, Geno Smith looks like a Mark Sanchez clone. Smith has all the physical capabilities to be an NFL quarterback, but his continued physical and mental gaffes cost the team dearly. Smith committed an atrocious four turnovers, and each mistake led to a Tennessee touchdown. The West Virginia product needs to learn how to hang onto the football. It also didn't help that the Jets offensive line was manhandled by the Titans front seven. Smith was hit 11 times and sacked another five. Run Offense: After having success running the ball in the first half, the Jets completely abandoned the rush late. Bilal Powell, after gaining an impressive 5.7 yards per carry in the first half, rushed the ball just five times in the final 30 minutes. The rushing game was the only decent aspect of the game for New York, but for some reason, they only ran the ball 23 times out of 63 plays. Pass Defense: The pass defense was dominated by a subpar aerial attack by the Titansthroughout the game. Jake Locker and Ryan Fitzpatrick combined for 244 yards passing on 32 attempts for four touchdowns and zero interceptions. Darrin Walls was picked on considerably, and Antonio Cromartie looked like a shell of the player he was last year.
New York City Marathon bans hydration backpacks, strollers in security measures prompted by Boston Marathon bombings
A way to bring down the costs, Horn has long said, would be to replace Rikers Island with more robust jails next door to courthouses. But his attempts to do that failed in part because of political opposition from residential areas near courthouses in Brooklyn, Manhattan and elsewhere. My point is: Have you seen a whole lot of outcry on this? Why doesnt anything happen? Horn said of the $167,731 annual figure. Because nobody cares. Thats the reason we have Rikers Island, he said. We want these guys put away out of public view. New Yorks annual costs dwarf the annual per-inmate costs in other big cities. Los Angeles spent $128.94 a day, or $47,063 a year, for 17,400 inmates in fiscal year 2011-12, its sheriffs office said. Chicago spent $145 a day, or $52,925 a year, for 13,200 inmates in 2010, the most recent figures available from that countys sheriffs office. Those costs included debt-service and fringe benefits. Experts note that New Yorks high annual price tag is deceiving because it reflects considerable pensions and salary responsibilities, debt service and the expensive fixed costs. The DOC says 86 per cent of its operating costs go for staff wages. New Yorks system differs from other cities in some other costly ways it employs 9,000 relatively well-paid, unionised correction officers, for example, and is required by law to provide certain services to inmates, including high quality medical care within 24 hours of incarceration. Cost savings Nick Freudenberg, a public health professor at Hunter College, said the latest city figures show that declining incarceration rates havent translated into cost savings.